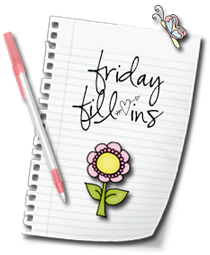 Graphic courtesy of
Tonya
!
And...here we go!
1.
Pizza
and
BBQ
make a quick and easy dinner. No lamb chops please.
2.
New Moon
is the book I'm reading right now. Well.. actually I'm planning to.
3. July brings back memories of
night life with my best friend
. 'Tis her birthday month after all. Those were the days.
4.
That the Sheep snored
was obvious.
5. They say if you tell your dreams
they won't come true
. That's when it becomes a nightmare.
6.
I need
to think it over. What, pray tell...
7. And as for the weekend, tonight I'm looking forward to
dreaming of my sunshine
, tomorrow my plans include
a strategic meeting
(work again)
and a simple birthday bash for my son
, and Sunday, I want to
sleep sleep sleep
!
Here's wishing you all a great weekend!!!