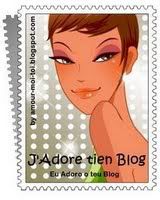 The Sheep has received another award from
KAT of Candles Crafts and Whatnot
. This is what she said about this new award:
I received this lovely blog award called,

J'Adore Tien Blog Award

from DeDe over at

DeDeAndro

. This is a blog that I love to visit! There is always something interesting going on over there and I urge you to check it out!!

Now DeDe said that J'Adore Tien Blog means I Love Your Blog in French (correct me if I am wrong). And who am I to doubt?? I have no clue? And I don't speak French, so I will agree, this award means that my blog is loved!! YAY!

Thanks DeDe! I feel very honored to have received this wonderful award!
I don't speak French either but this is a pretty one and the translation makes sense to me. Thank you so much for the
J'Adore tien Blog Award
, Kat.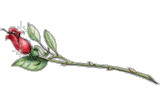 Kat's blogs are among my favorites and I'm going to pass this on to her other blog,
Soy Wax Candles Blog
, as well as to the following great blogs
:
Maitri's Notes, Quotes and Flashing Thoughts
Dolly's Daily Diary
Comedy Plus
Thom's Place 4 Well Whatever...
Harriet
Mimi Writes.......
Psychic Mama*Indigo Child
Mariuca
DISCO MUSIC MONDAY: BORDERLINE (MADONNA)
Among Madonna's many hits in the 80's, Borderline was my favorite. She became a fashion icon to us Generation X'ers and set the trend for that "naughty girl" look.

Come join Music Monday and share your songs with us. One simple rule, leave

ONLY

the actual post link here. You can grab this code at LJL Please note these links are

STRICTLY

for Music Monday participants only. All others will be deleted without prejudice.




PS: Because of spamming purposes, the linky will be closed on Thursday of each week at midnight, Malaysian Time. Thank you!