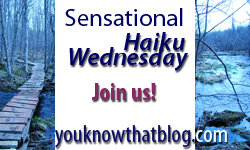 WELCOME TO SENSATIONAL HAIKU WEDNESDAY!!!
The basics:
Haiku is simple! It is 3 non-rhyming lines of 5, 7, and 5 syllables respectively (a great way to use your fingers!). Traditionally about nature, we certainly don't need to stick to that theme. In fact, we have

a different theme every week

!
This week's theme is: DREAMS

Fireworks, bright lights, glee
Breathing deeply, i then choked
Woke up in the john
Thanks Jenn of
You know... that Blog?
for hosting.
Please see my
main blog's entry
...