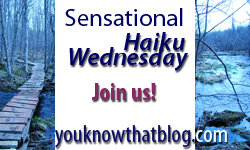 Jen of
You know... that Blog?
hosts
Sensational Haiku Wednesday
and here's what she has to say about the meme:
"Haiku* is Japanese in origin (so it only makes sense that a Canadian born Irish woman should latch on to it, don'tcha think?) and is simply 3 lines of non-rhyming words, of 5, 7 and 5 syllables respectively. Traditionally about nature, we certainly don't need to stick to that theme. In fact, we'll have
a different theme every week
!"
This week's theme is:

Generosity